PGSF to Participate at Two Industry Events: Americas Print Show and Printing United
June 8, 2022 | Posted in: PGSF News | PGSF Blogs
Pittsburgh, PA — June 8, 2022 — The Print and Graphics Scholarship Foundation (PGSF) is pleased to announce that it will be participating at two upcoming industry events: the Americas Print Show, taking place August 17-19 in Columbus, OH, and Printing United, October 19-21 in Las Vegas, NV.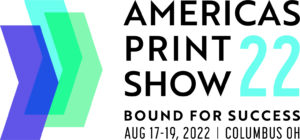 At the Americas Print Show, PGSF will be at the workforce development area, booth 1741. The non-profit will be involved in the Student Day, Thursday, August 18th, which will include a tour of FSC-certified Hopkins Printing for educators, students, and their families.
A similar tour is planned during Printing United, where PGSF will be at booth N1203. 
"We look forward to meeting with the community at the upcoming expos," comments Dianne Bullas, Operations Director, PGSF. "As the print industry evolves, and products such as wall décor, carpets, and clothing are produced in addition to magazines and packaging, there is a career path opportunity for almost everyone. The industry is fueling jobs in finance, human resources, mechanics, IT, customer service, sales, marketing, safety, logistics, press operators and technicians, and more. It's a great industry for learning and advancement."
For more information, visit www.PGSF.org.
About PGSF

The Print and Graphics Scholarship Foundation is a not-for-profit, private, industry-directed organization that dispenses technical and college scholarships and assistance to talented youth interested in graphic communications careers. The mission of PGSF is to promote the graphics industry as a career choice for young people and then to support them through their education process. 
Contact:

Jeff White
Director of Development, PGSF