PGSF: Helping Attract and Support New Talent for the Graphics Arts Industry
April 26, 2021 | Posted in: PGSF News | Careers Resources | Videos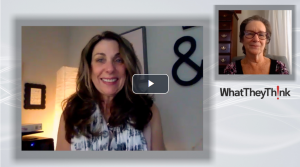 In this March 2021 interview, Jules Van Sant, current Chair of the Print and Graphics Scholarship Foundation, shares an update about PGSF and its current initiatives and excitement for the future. Jules wears many hats in the print and graphics industry, including her current volunteer leadership role with the foundation. Her goal is to lead the organization to benefit students and cultivate the next generation of graphic communications leaders. Jules and the current board of directors continue to focus on growing the PGSF beneficiaries and getting the word out on available scholarships. Annual funding exceeds $500,000, benefitting 200+ student applicants with tuition assistance at trade schools, two-year and four-year colleges/universities. This support encourages more students to consider a career in the broader graphic communications industry. Positions and opportunities are vast for the generation — from marketing and sales roles to graphic design and prepress jobs to running press and finishing equipment and every opportunity the industry offers.
Thank you to Cary Sherburne and WhatTheyThink.com for allowing us to spread the word! See the energetic interview HERE.
There is still time to apply for scholarships on our website – PGSF.org/scholarships.  Deadline extended through May 8, 2021.
PGSF: Helping Attract and Support New Talent for the Graphic Arts Industry – WhatTheyThink