PGSF Announces Retirement of Bernadine Eckert
September 22, 2022 | Posted in: PGSF News | PGSF Blogs
Managing Director is being honored with a new Endowment
Pittsburgh, PA — September 20, 2022 — Bernadine (Bernie) Eckert, long time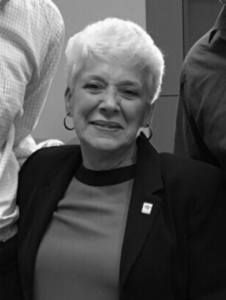 Managing Director of the Print & Graphics Scholarship Foundation (PGSF) will be retiring in December 2022. Bernie has worked tirelessly for over 20 years managing the scholarship process for thousands of students who are working on furthering their education in the Graphic Arts. She will be greatly missed by her team at PGSF as well as by the students, faculty and the PGSF board.  
"It has been a privilege to work with Bernie and see firsthand how she has positively impacted so many people," said Ted Straus, PGSF Board member and President /CEO of Suttle-Straus. "PGSF has truly benefitted from Bernie's passion and dedication to the organization. Thank you, Bernie, for everything that you have done for PGSF!"
To honor Bernie's extensive career with PGSF, an endowed scholarship in her name has been established. This will ensure that her memory endures for years to come throughout the Graphic Arts Industry, offering financial aid to students entering the Graphic Arts industry. The goal is to have it fully funded by the time she leaves the foundation in December 2022. 

PGSF calls on industry professionals, companies and others who might be alumni, previous scholarship recipients, and those who have benefited from the tireless work Bernie gave to the foundation to donate towards this effort. If you have hired previous scholarship beneficiaries or look to add younger individuals to your staff in the future, this is one-way organizations and individuals can show support and level up the opportunities into the future.  

The PGSF Staff and Board of Directors is honored to welcome donations of any size. This will ensure that her passion, enormous efforts, and Bernie's name will continue in perpetuity to the benefit of students annually. 
To encourage participation, a generous benefactor has stepped up to match every $100 donation made in the fall of 2022 to help achieve required endowment levels.

Donations can be made at PGSF.org or by going directly to the Bernie Eckert Endowment PayPal page.  Those who would like send a check can mail it to the attention of Jeff White. PGSF Development Director, PO Box 15348, Pittsburgh PA 15237. Please note in the memo section that it is for Bernie's Fund. You can also scan the QR code with your phone to learn more and donate.

About PGSF
The Print and Graphics Scholarship Foundation is a not-for-profit, private, industry-directed organization that dispenses technical and college scholarships and assistance to talented youth interested in graphic communication careers, as well as current employees in the industry. The mission of PGSF is to promote the graphics industry as a career choice and to support students through their education process.
Contact:
Jeffrey White
Director of Development
412-608-2855
jeff.white@pgsf.org