PGSF ANNOUNCES NEW EXECUTIVE COMMITTEE MEMBER AND TREASURER
May 5, 2023 | Posted in: PGSF News | PGSF Blogs
Pittsburgh, PA – May 5, 2023 – The Print & Graphics Scholarship Foundation is pleased to announce that Mr. Nick Gawreluk has assumed the role of Treasurer on the executive committee effective immediately. Nick replaces Dr. Niels Winther, Chairman and Owner of ThinkPatented, who graciously held this position over the past 4 years. Nick will collaborate directly with the staff and serve as chair of the organization's finance committee. Nick was a PGSF Scholar and attended Rochester Institute of Technology, graduating in 2013 with a BS in Print Media.He recently graduated with his MBA from the Frankfurt School of Finance and Management in Germany. He currently works for Taylor Corporation in Minnesota where he is Director of Account Management.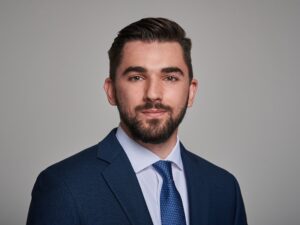 "Being able to come full circle and support the foundation that invested in my graphic communication education as a student is an honor," Nick shared. "The financial backing that PGSF provides to future generations of our industry is truly phenomenal. I am fortunate for the opportunity to support PGSF's mission and look forward to continuing a long-standing history of changing students' lives." Jules VanSant, PGSF Board Chair reflected on this transition. "Niels has given tirelessly to our leadership team to support our evolution to be a more nimble, relevant resource for students, educators, schools, and the industry. I am grateful for his generous guidance and commitment these past years.
"Nick knows the impact PGSF brings as a former scholarship recipient and current board member. I am confident and excited about the perspective and energy he and our evolving board demographic pays forward into the future. I am honored to collaborate with individuals with passion and a vision looking ahead!" Nick also serves on the board of TAGA – The Technical Association of The Graphic Arts and the board of the Crohn's and Colitis Foundation.
About PGSF
The Print and Graphics Scholarship Foundation is a not-for-profit, private, industry-directed organization that dispenses technical and college scholarships and assistance to talented youth interested in graphic communication careers. The mission of PGSF is to promote the graphics industry as a career choice for young people and then to support them through their education process.
Media Contact: Debbie Bohan, 866-556-7473, debbie.bohan@pgsf.org