I'm Not Anyone – A Story of Reinvention and Acceptance
February 3, 2022 | Posted in: Endowments | PGSF News | Donor Resources | Careers Resources | PGSF Blogs
Roger Gimbel, who served on the PGSF board for many years and has an endowed scholarship with PGSF, has just published I'm Not Anyone – A Story of Reinvention and Acceptance, a paperback book available on Amazon.  Generously, Roger is donating all of the proceeds from the sale of this book to PGSF.  Below is the synopsis – purchase your copy today and support the foundation!
FROM THE BACK COVER
Roger P. Gimbel, EDP is a well-known entrepreneur and business executive in the commercial print industry. He assumed management of the family business, Gimbel & Associates, expanded it, and had it taken from him. Over the course of his career, he's experienced many ups and downs; some of them humorous, others heart-breaking.
I'm Not Anyone is the colorful story of a man who endured a big business disappointment, regained his sense of worth, and became an innovative and inspiring influencer.
The book is filled with interesting anecdotes and provides a glimpse into the evolution of the printing business from the 1960s until today.
ADDITIONAL NOTES
This book covers over 50 years in the life of Roger P. Gimbel, EDP. He's now the president of consulting firm Gimbel & Associates, but he started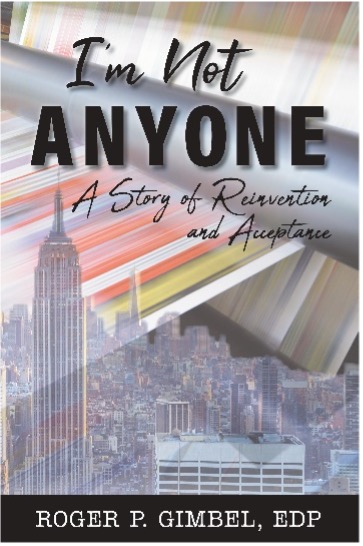 his business career working in his father's print shop. The events that steered his life, and sometimes changed his trajectory, are related in "I'm Not Anyone" through amusing and interesting anecdotes and stories.
Coming of age in the turbulent late sixties had an influence on Roger's life as he attempted to balance his interest in becoming a successful business executive with the counterculture attitudes of the time. He managed to start and expand his company while simultaneously enjoying life to its fullest. Readers will learn how he foresaw an increase in demand for quick-turnaround duplication and copying and set up his business to take advantage of new technology in the printing industry, eventually running operations for the family printing company following his father's death.
Success and a growing reputation attracted business from big enterprises like JC Penney and AT&T. Demands for rapidly produced high volumes of print inspired Roger to work with his contacts at industry-leading vendors like Xerox to develop or evaluate new technology sorely needed in the world of printing. Things were going well. Then he made a decision that seemed right at the time but eventually caused him to leave the print production business. With no Plan B, Roger Gimbel had to reinvent himself on the fly.
Interspersed with a digital printing chronicle are stories about sailing, reality TV, unscrupulous business associates, celebrities, and even gangsters! Readers will learn about the print industry's evolution while being entertained by Roger's stories and adventures.
Personal development, drive, and ambition are also part of the story, all wrapped in tales of business trends and developments. Anyone interested in the printing business will enjoy this book, but it also appeals as an engrossing biography of one of the most interesting people in any industry.