Cal Poly Graphic Communication provides update on its Gravure process training
May 8, 2023 | Posted in: Endowments | PGSF News | Student Resources | PGSF Blogs
Source – April 2023 GAA GravurExchange Newsletter
The K-Proofer was generously granted to Cal Poly Graphic Communication by the Gravure Education Endowment (GEF) and the Print Graphics Scholarship Foundation (PGSF) in Fall 2021. Since then, it has been used for teaching, research, and extra-curricular activities. The K-Proofer was integrated into hands-on learning activities for over 200 undergraduate students.
Students were taught the differences in gravure, flexography, lithography, and silkscreen printing processes. In particular, gravure was briefly introduced in GrC 101 Introduction to Graphic Communication. With the addition of the K-Proofer, we could incorporate more in-depth explanations of gravure in multiple classes, including GrC 211 Materials for Graphic Communication Applications, and GrC 328 Digital and Offset Printing Methods.
In GrC 211, with the help of the K-Proofer, students had hands-on experience with gravure ink by measuring ink viscosity and making proofs. In GrC 328, students get a deeper understanding of the differences between analog-printing processes. Students are introduced to the printing principles, press technologies, sustainability challenges, substrates, and inks considerations of the Gravure process. Consequently, students will thoroughly understand how gravure is different from flexography, as gravure controls both the area of ink coverage and ink-film thickness in the same print unit.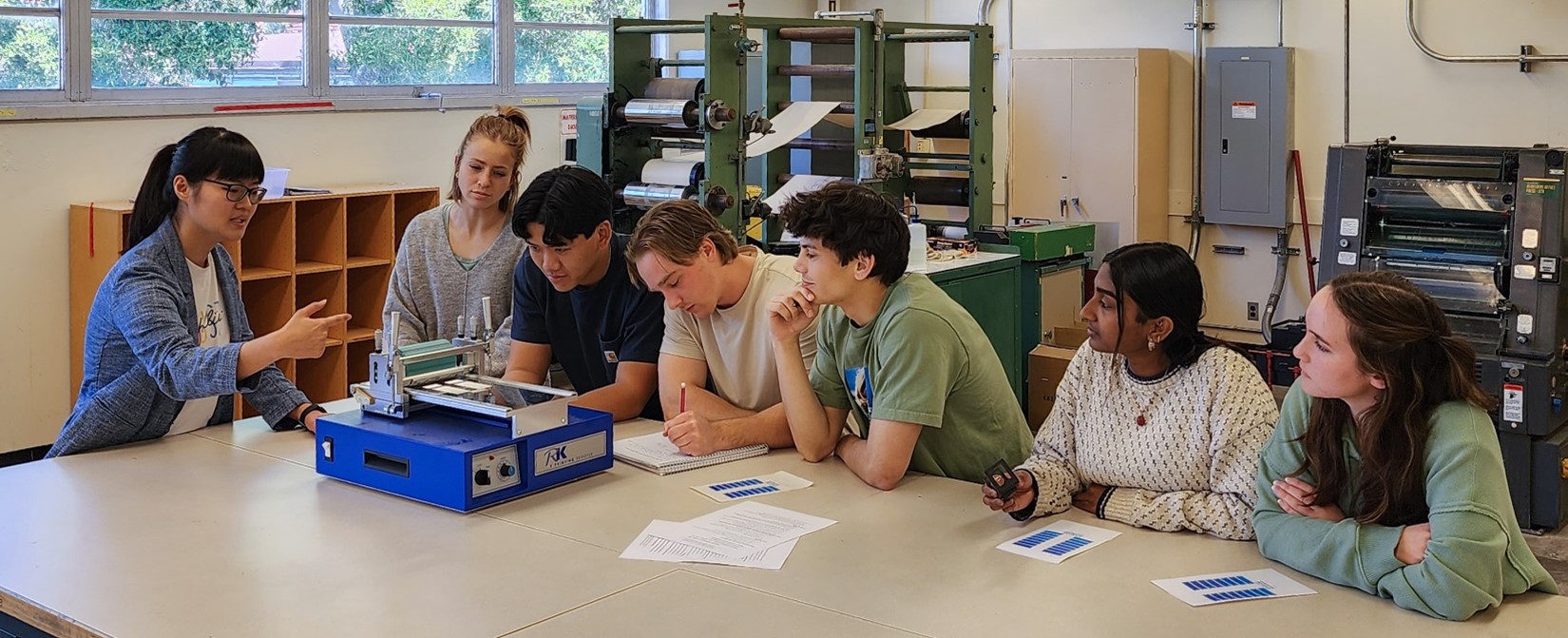 In the lab activities, students could observe the gravure plate from K-Proofer under the microscope. Then they are provided with real-world print samples to analyze the print features, quality, and volume. At the end of the class, students felt more comfortable analyzing different print samples and associating them with specific printing methods by identifying the end-use of the sample and analyzing the print features, such as halo edge from flexography and serrated edge from gravure.
Moreover, students also learn color-matching by using the spectrophotometer on the print samples from the K-Proofer.
Cal Poly's Graphic Communication Department is very thankful that PGSF and GEF support schools like ours. With the K-Proofer in our labs, students are empowered with hands-on experiences that deepen their understanding of gravure technology.
We want to thank Ruoxi Rachel Ma, Ph.D., Assistant Professor, Graphic Communication, California Polytechnic State University, for providing the article and supporting the gravure process to her students.