Bernie Eckert Endowment – Help Us Reach Our Goal!
September 2, 2022 | Posted in: Endowments | PGSF News | PGSF Blogs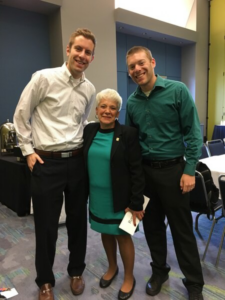 Bernadine (Bernie) Eckert, long-time Administrative Director of the Print & Graphics Scholarship Foundation (PGSF) will be retiring at the end of 2022. Bernie already has the beginnings of an endowed scholarship in her name, however, to be able to start distributing funds, the endowment needs to reach $25,000 at a minimum. We aren't there yet.
Our goal is to have it fully funded by the time she leaves the foundation in December 2022.
PGSF calls on industry professionals who might be alumni and/or previous recipients with a request to make a donation in Bernie's name! If you have hired previous scholarship beneficiaries or look to add younger individuals to your staff in the future, you're invited to make a donation towards supporting our efforts to create more opportunities for all.
The PGSF Staff and Board of Directors would be honored to accept your donation of any size. This will ensure that her passion, enormous efforts, and name will continue in perpetuity to the benefit of students of the graphic arts. What better way to honor her than to enable a scholarship to be granted each year in her name to a deserving student?
We are also excited to announce that we have a generous benefactor who will match each $100 donation made this fall to help us achieve our funding goals.
Those who donate $100 or more will have their name engraved on a plaque that will be presented to Bernie at her retirement dinner.
You can easily donate at the PGSF.org website or by using this link that will take you to a special PayPal location we have set up for this scholarship.
If you would like to mail a check instead of using PayPal you can send it to PGSF directly:
PO Box 15348, Pittsburgh PA 15237.
Please note in the memo section that it is for Bernie.

Thank you!