The Print and Graphics Scholarship Foundation is publishing profiles featuring some of their more than 6000 former scholarship recipients. This series gives you an up close and personal insight into the thoughts and motivations of the former students who are a part of our industry today. As our current employees reach retirement and leave, replacing them becomes an increasingly important factor for many companies. Here is one story…
Michelle Kruszewski
X-Rite/Pantone Grand Rapids, MI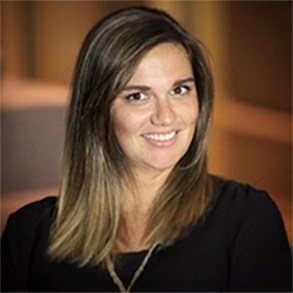 Michelle Kruszewski attended Western Michigan University, and received a degree in Imaging (Graphic Communications) in 2007.
A Profile
How did you first get interested in the graphic arts, or decide to focus on graphic communications in school?
I had an interest in graphic design and toured Western Michigan University, where I met Dr. Abhay Sharma. Dr. Abhay took the time to explain color management to me, and I was pretty much hooked.
Did you take any courses in high school that were related to graphic communications, or that prepared you for your planned career?
I took Graphic Design independent study, and also competed in Business Professionals of America.
How do you think going through your education process prepared you for the workforce?
The two most influential things at the university level were the hands-on work with presses and in applications, and the field trips to different suppliers and producers. Outside of the classroom I had invaluable experience through internships, and through a study abroad program assisting for a university in Dresden, Germany.
In Today's Workforce
What company are you working for now and what types of products and services do they provide to their customers?
I am employed by X-Rite Pantone. They are the global leader in color communication and color management hardware and software solutions.
What job did you first have with the company when you started, what position do you have now, and/or what else have you done since joining the company?
I started with X-Rite right out of college as a Training Project Leader. I am now the Professional Services Manager, where I manage a variety of services including Digital Finish Capture, Total Appearance Capture scan service, and Cosmetic Services. I am still heavily involved in training, creating new training content for X-Rite Pantone hardware and software, building OEM partnerships and leading the Integrated Color Management class.
What do you think employers are looking for in today's workforce and the current industry environment?
Employers are seeking someone that is driven, motivated and committed to the industry and the company at which they work. I also believe in the importance of lean and process improvement. As well as the willingness to change, and help make change happen within the company.
Is there anything that you have found to be particularly different from what you initially expected, now that you've progressed through your work career for a period of time?
Nothing really surprised me. Through the field trips and internships I feel that I was able to really get a grasp on the expectations of the graphic arts industry.
Have you changed your plans or ideas about what area or type of job you might like to have since you first considered the graphic communications field and began studying for a career in it?
Not completely, I started with the idea of color management, and never imagined that I would be working for the global leader in color after school. There are so many options with a graphic communications degree and I wanted to keep all doors open. So, when graduating, I looked at a variety of different jobs and was thrilled to come across the position at X-Rite. Working at X-Rite Pantone I have broadened into management, project management and other areas, which I have really enjoyed.
What do you see yourself doing a few years from now?
Continuing work with X-Rite Pantone into the future of color and appearance. Growing in the markets that we serve and exploring new opportunities in products, training and services.
Was being a recipient of a PGSF scholarship important, or did it have an impact on your future or ability to succeed in the industry?
The support from the PGSF was incredibly important to my family and I through college.
< Back