Winning a College Scholarship: Ultimate Guide + Infographic
June 18, 2021 | Posted in: Scholarships | Student Resources
Finding College Scholarships is more important than ever for students and their parents to offset the high cost of education. The Print and Graphics Scholarship Foundation is pleased to offer more than $500,000 annually to part-time and full-time students studying print and graphic communication.
PGSF is excited to share this article and infographic., contributed By Ruth Kinloch | writer and blogger at IvyPanda — ruth@ivypanda-mail.com
The Cost of an Education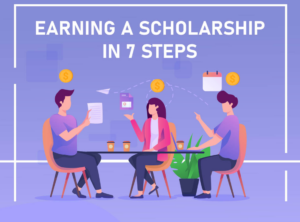 As the saying goes, nothing in life is free. In order to find a well-paid, satisfying job, you almost always need to have a college degree. Unfortunately, attaining this level of education involves spending money on tuition and related fees for several years. The average college tuition in the US is about $40,000. This price is enough to terrify even the affluent among us. But for the many young people whose parents cannot afford to pay for their education, the cost is simply too high.
However, there are less expensive options. For example, you can cut costs by attending a public two-year college. For in-state students, the expenses total about $3,500. But a four-year college degree for out-of-state students is, on average, about $32,500. As you can see, the prices differ enormously, and they vary across schools and states.
Applying For Scholarships Explained
The cheapest option is to set your sights on a scholarship. Many of these awards are given as prizes to the best students, so you should definitely be proud if you receive one. This article will tell you about different types of awards, show you where to start your scholarship search, and offer many useful resources to help you along the way. The infographics that show you how to prepare your application are meant to be especially helpful.
Read the whole article by IvyPanda here and be well on your way to winning a college scholarship!