Thinking In "The Box"
July 7, 2021 | Posted in: Ken Macro | Scholarships | Student Resources | Donor Resources | Careers Resources | Schools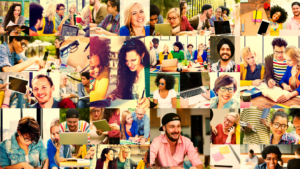 Thinking in the "Box"
By: Ken Macro, PhD
California Polytechnic State University, Graphic Communications
Many of us are finally emerging from our gopher holes.  Our eyes in to slowly dilate from the past year-and-half of binge-watching Netflix, Prime, Hulu, and Apple TV. The George Jetson and Mr. Spacely-like Communications are less frequent, and the summer light, sounds of birds, and crisp—albeit hellishly hot—air has become a welcomed friend. It's been a LONG six quarters of coursework, teaching from my garoffice surrounded by tools, brooms, and a hot-water heater.
After endless months of viewing hundreds of digital boxes affixed with avatars and names in the lower-left corner, I will absolutely relish the opportunity to be in the front of a room full of students, appreciative of the traditional educational didactic model. I believe they will embrace in-person instruction with a moving, fast-talking lecturer full of unending stories to shock them back into a relatively acceptable realm of normalcy. I can smell the whiteboard markers already.
Celebrating Milestones
Interestingly, we celebrated our spring quarter-end in mid-June. An actual ceremony commenced — extremely condensed and open to only minimal guests for each graduate and held in our football stadium. Upon graduation, a couple of students invited me to meet them for a quick celebratory beverage and toast their accomplishments. With great hesitancy, I agreed. It was a Wednesday evening, and, having not visited our little town of San Luis Obispo for over one year, it was eerily fun to walk on the streets once again with people trolling the shops nearby. Awkwardly, we met at the establishment (known for their excessive choices of beverages), deciding whether or not to hug, shake hands, or bump elbows. It was great to see everyone, and immediately we all began talking about our educational experiences over the past year. As it were, I was actually quite proud of them all and excited that I—the old guy—could share in their experiences.
They were all very respectful of the time, and after two hours (that flew by quickly), we decided to embark and meet again when the time permitted. However, as we were leaving, two students walked up to me and said, "Macro, is that you?!" Then they came up and hugged me. Shruggingly, my eyes clicked as I referenced the forty-drawer filing cabinet in my head full of the thousands of students, friends, and acquaintances' names that I have collected over time. Unfortunately, within that nano-second, they could see that I did not know who they were. The one young lady made a square around her face with her two thumbs and pointer fingers and said, "Sophia." By this time, I had located the file and responded, "right, 422, section 02, column 3, row 2." And we all laughed and recognized the identification tactic as if in code.
Getting Back To It
The bottom line is, I miss the classroom and in-person instruction. And, as we begin to understand the good, the bad, and the ugly of online learning, I can only hope that students in this slice of time will prosper. They are highly resilient and for the most part optimistic. I am confident that every student, K-12, post-secondary, and even those with unique needs, will recover and emerge stronger than ever before. The experience of compressing their identities into that digital box has provided them an internal awareness of the importance of personality and the interconnectedness of humankind. The box still exists, but now it is about the vastness of family, friends, and community. It brings a whole new perspective to "thinking in the box."
Dr. Ken Macro is a professor of Graphic Communication at the California Polytechnic State University in San Luis Obispo, California. He is serving his 21st year. His areas of interest are management (contemporary, production, human resources, and Lean manufacturing), sales, and marketing. He is also the faculty advisor for the Charles Palmer Collection – The Shakespeare Press Museum housed within the department. Ken sits on the PGSF board of directors as an educational institution representative. Should you wish to contact him, his email is kmacro@calpoly.edu.