PGSF Grant Supports UW Stout TAGA Conference Attendance
June 6, 2023 | Posted in: PGSF News | Student Resources | PGSF Blogs
Student Experience from UW-STOUT 2023
LEAH SHIBILSKI, ALEXA MATTSON, AND UDIT PATEL LED BY BETHANY WHEELER
MARCH 12-15, 2023
Leah Shibilski, Alexa Mattson, and Udit Patel had the privilege of attending the 75th annual Technical Association of Graphic Arts (TAGA) Conference in Oklahoma City, OK with their professor Bethany Wheeler. TAGA is a part of the Printed United Alliance. The conference united professionals from across the world: Canada to Germany to Israel and beyond.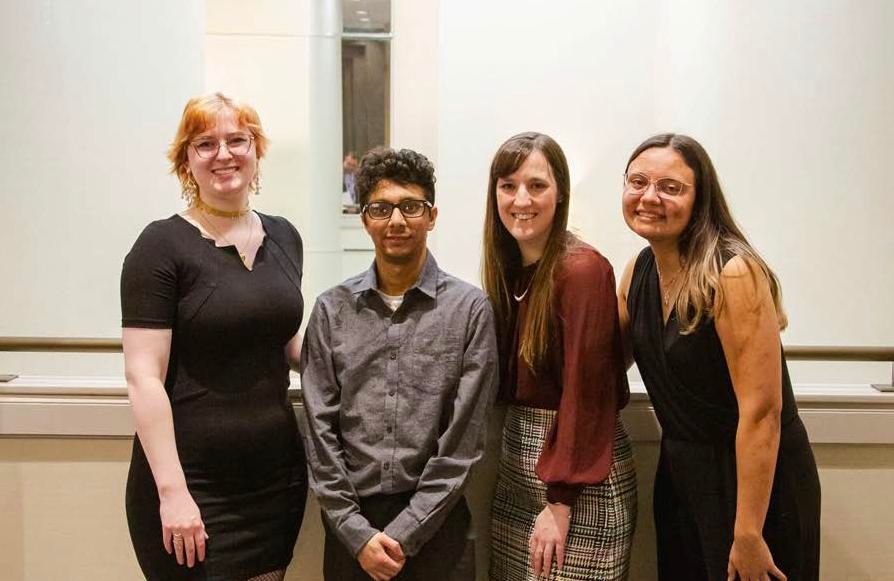 STUDENT TAGA CHAPTERS
On the very first day of the conference, Leah, Alexa, and Udit witnessed each participating TAGA student chapter present the journals they produced themselves. This year's participants included chapters from Toronto Metropolitan University (TMU), Clemson University, Rochester Institute of Technology (RIT), and California Polytechnic (Cal Poly). Each TAGA chapter must design a journal containing research from fellow students at their university or technical school. The students work together to come up with design ideas, compile research, print, and finish their journals. Along the way, they form bonds with their team and come up with solutions to any setbacks in their production process. Then in March, they formally present their work at the TAGA conference to judges from the industry. The journals are judged based on research, design, and production quality. There were multiple awards, including an audience-voted award and an overall award.
The Stout students were impressed with how much work each chapter put into their journal, and were excited about the possibility of a TAGA chapter at UWStout sometime in the future. The Clemson team was a great example of the benefits of TAGA student competition, as it was comprised of mostly freshmen with a graduating president. They seemed to learn a lot, and came out the other end with valuable experience. A TAGA chapter at Stout would provide students with a fun and hands-on way to learn the nitty-gritty of their industry and would put participants way ahead of their peers in the major.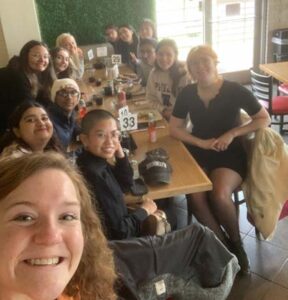 At Wisconsin's polytechnic university, Stout knows a hands-on team for our Graphic Communications program would be invaluable!
Beyond learning about their process for the competition, the Stout students were pleased to spend time building personal & professional connections with the other students. To the right, a photo of UW-Stout, RIT, TMU, and Clemson students getting sushi together during their free period.
INDUSTRY RESEARCH
The three students were treated to the presentation of their professor Wheeler's graduate thesis on the effectiveness of the Nyx Color Sensor in a classroom setting, among other research presentations. The research varied from color technology to history research to improvements in the day-to-day industry. Some of their favorites are highlighted below.
Moshe Rosenfield from the Institute for Computerized Bibliography of the Hebrew Book in Israel wove the tale of how he and his colleagues have conducted research on antique print specimens of Hebrew books. They have concluded that there were most likely different printers in Europe using similar methods as Gutenberg before Gutenberg himself. Furthermore, we also do not have concrete proof Gutenberg even existed! Rosenfield described the way his team analyzed paper watermarks and printed-type inhomogeneity in the work of Procope Waldvogel, who likely resided in Spain or southern Europe. Waldvogel was successful in printing a Hebrew book in 1444-1446, but was not successful in bringing the technology to the public because he did not have a comprehensive business plan. In contrast, Gutenberg had successors and printed the Christian Bible, which was important to a wide variety of people. Nonetheless, Waldvogel had his own printing press and indeed produced books before Gutenberg's Bible. Their research continues and will be presented at additional academic conferences in the future.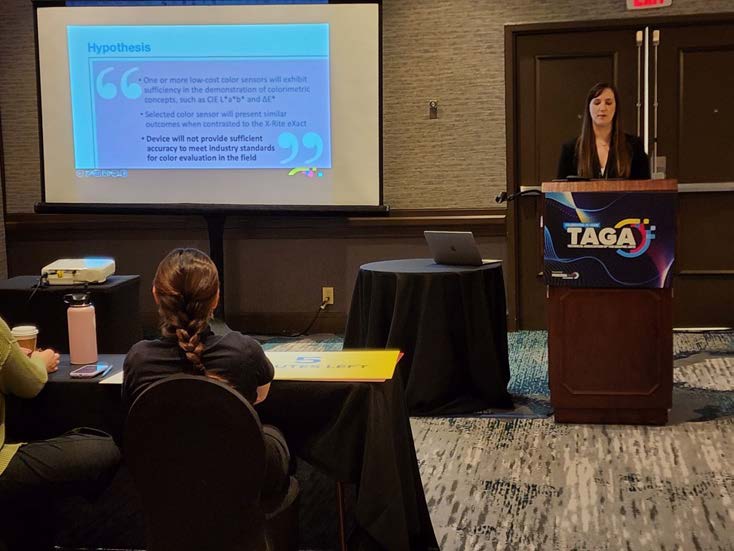 In a more traditional print route, Dr. Kiran Deshpande presented a strategic method on how to leverage gamut metric for Expanded Color Gamut (ECG) printing. ECG printing is the usage of three additional colors Orange, Green, and Violet (OGV) to the traditional four print colors, Cyan, Magenta, Yellow, and Black (CYMK). Deshpande suggests that the industry should slowly move towards ECG printing due to the following factors such as enhancing the vividness of the images; having the ability to be more attentive in gamut analysis among colors; and an increase within the gamut size resulted in potential increase in gamut coverage if used ECG printing. This research about the slow integration of Expanded Color Gamut within the print industry was the most interesting to listen to due to the various potential routes that a company or an industry leader can acquire this knowledge about the logistics and the analysis on why how to gain that leverage in colors for one's company to obtain a competitive edge against other companies within the industry.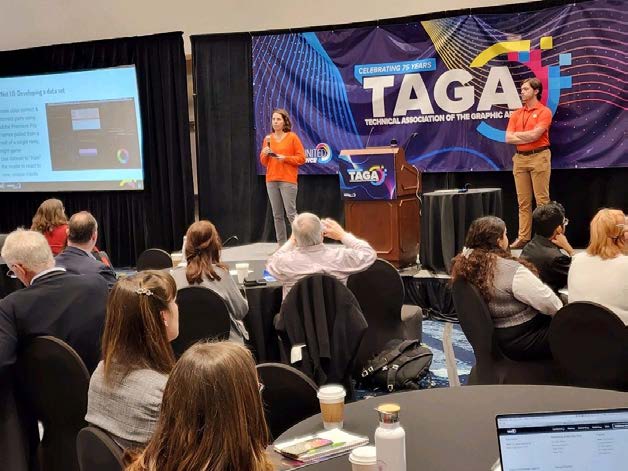 Other notable research included the following: Wheeler's presentation of her graduate thesis stated that the Nyx Color Sensors were a reasonably priced device for a classroom setting that was introducing color to many students, but they are limited in that they only carry 2* illuminant, D50, and M2 settings. John Seymour's research discussed new digital technology in the classroom. The research included best practices for teaching students Adobe Creative Suite on iPads, bridging the gap between Procreate and Illustrator, and opening ethical discussions about AI art in the classroom. Dr. Erica Walker & Forrest Zach presented their project of creating a color-correcting software to apply to both live sports games and personal photos. They have gone through many iterations of their Colornet and are continuing to explore the best way to color correct Clemson orange on game day. Dr. Martin Habekost presented Dr. Erica Walker and Forrest Zach presenting their ColorNet research Photo courtesy of Technical Association of the Graphic Arts graduate student Veronika Wiszniewska's findings about Booktok, the subset of Tiktok that discusses books. Wisznieska's research explored the prospects of marketing the print industry through this social media channel. Dr. Volker Jansen presented Zeeshan Mehmood, B.Eng., and his research answering why certain printers' folded substrate was cracking, finding that the ink's poor adherence to the substrate can cause cracking as much as grain direction can. There are differences in digital and offset cracking, as offset has thicker coverage than digital, and the paper chemistry (coating & sizing, moisture content, fiber treatment, elasticity of binding) is another major factor. All of this research and more was fantastic to listen to, and it was great to dialogue with the presenters about trends in the print industry.
VOX PRINTING INC. TOUR
The last stop on the TAGA conference was Vox Printing Inc. There, attendees were treated to a tour of the plant and an explanation of some of their business practices by David and Robert Reid. Beyond seeing their wonderfully-clean carton folding machines and digital presses, attendees were especially impressed with the thoughtful design of their facilities. Natural light and conscious design throughout the plant gave the impression that this would be a great place to work full of those who care about their employees!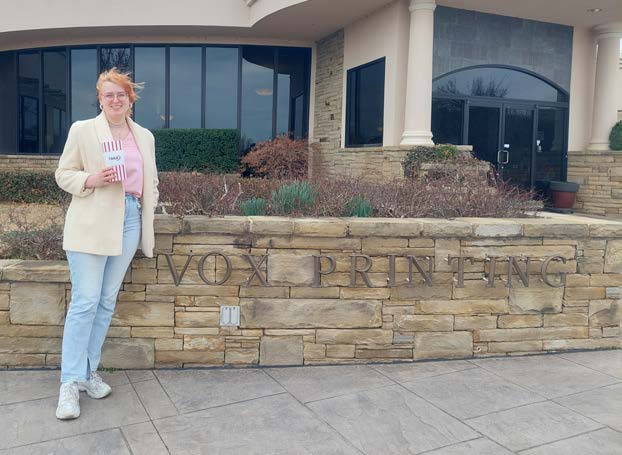 PROFESSIONAL OPINIONS ON ENROLLMENT
A major benefit of having a large pool of print industry professionals in the same room is that they all experience the same problems differently. Thus, they have different solutions. Talking to professors from global universities (special thanks to Dr. Volker Jansen from Stuttgart Media University and Dr. Martin Habekost from Toronto Metropolitan University) allowed us to gain some perspective on UW-Stout's low enrollment in the Graphic Communications program. We know that there are a ton of jobs available in the industry, which will continue to chug along as it always has with new innovations and niches. So why is enrollment so low?
The answer may lie in optics. The public view of the print industry is very outdated. When most people think print, they probably picture newspapers. Logically then, print is dead! What this perspective fails to recognize is the way that print permeates every corner of every modern person's life. Labels, packaging, circuitry, buttons, notebooks, books, fabric… it's all print! Every one of those things needs to be printed, and there are careers in all those niches. Alexa Mattson posed the question of low engagement to the conference during the Technical Hour, and many professors answered. Though it was a brief discussion, the general consensus was that beyond those in the industry, no one seems to know what print is anymore. Programs that focus on public education about print, especially in primary schools and the community, would do wonders for engagement with print companies and subtly drive more people our way. There is also the added bonus that engaging with children in primary schools and the community would make the print companies a more positive presence in the community they belong to.
FORWARD
All three UW-Stout students feel their ability to attend this conference was an absolute privilege. It was amazing to be able to network with print industry professionals and other students from around the globe. These students felt that attending this conference helped them gain confidence in their knowledge and position in the print industry. They look forward to the ways TAGA will grow itself and the UW-Stout Graphic Communications program in the future, and are happy to tend to the connections they have made here!