PGSF grant supports Women's Press Collective to train activists in print and publishing
October 4, 2022 | Posted in: Grants | DEI | Videos | PGSF Blogs
The Print and Graphics Scholarship Foundation recently awarded a $5,000 grant to Women's Press Collective in Brooklyn, New York. WPC is an all-volunteer association whose members include press operators and other press professionals, as well as students, professors, business owners, and more. Members work together to help organize community-based press and train people in all aspects of creating and disseminating news at a grassroots level.
The organization dates back to 1982 and has always been a mission-oriented collection of volunteers focused on community organizing through print.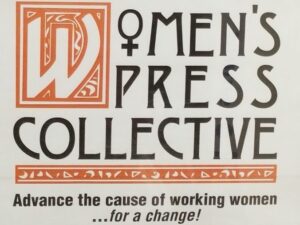 The nonprofit aids community-based organizations to print and publish their own newsletters, leaflets, posters, and other printed materials that they need for organizing around issues affecting communities such as low wages, lack of affordable housing, and lack of access to health care. Projects span the New York City metropolis and beyond.

The Women's Press Collective is using the PGSF grant in support of their press room and press training sessions. The free-of-charge, member-run training sessions teach press operation, binding, finishing, prepress, graphic design, writing, and journalism to organizations and individuals who want to leverage the power of independent press for activism.
"We want to share our respect and support for innovative programs that bring communities together—especially those with barriers to entry into the amazing world of print and graphic communications," said PGSF Board Chair Jules Van Sant. "The Women's Press Collective in Brooklyn, NY, serves the women in the local population by offering training, access to press and bindery equipment, and the ability to produce print materials for local organizations that are within the mission and values the WPC represents."
A recent deep dive into the organization's culture, history, and projects on What They Think noted that WPC also would like to augment its pressroom with a computer-to-plate unit and a small-format digital press. Those with expertise, equipment, or other resources to offer may contact the Women's Press Collective at 718-543-5100 or by e-mail at womenspresscollective@yahoo.com.