The Print and Graphics Scholarship Foundation is publishing profiles featuring some of their more than 6000 former scholarship recipients. This series gives you an up close and personal insight into the thoughts and motivations of the former students who are a part of our industry today. As our current employees reach retirement and leave, replacing them becomes an increasingly important factor for many companies. Here is one story…
Lee Dylan Elmore
Arkansas Graphics Little Rock, AR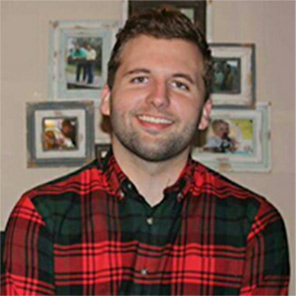 Lee Dylan Elmore attended Arkansas State University Jonesboro. He graduated in 2012 with an Associates In Graphic Communications degree.
A Profile
How did you first get interested in the graphic arts, or decide to focus on graphic communications in school?
Some would say that I was born with ink in my blood. My grandfather managed a large lithographic printing company in Arkansas for 40 years. My father owns an ink and supply company for commercial printers located in central Arkansas. So, I have been around the graphic communications industry since my very first memories. The best way I can describe it, is that I was born with a passion for printing in my genes.
Did you take any courses in high school that were related to graphic communications, or that prepared you for your planned career?
Unfortunately, the high school that I attended did not have any courses related to Graphic Communications.
How do you think going through your education process prepared you for the workforce?
My educational process allowed me to get an in-depth view on how the industry works from the inside out. We covered the process of graphic communications from start to finish. Whether it be taking the photos for a spread, formatting the layouts of printed materials in different programs, to learning about the machines that produce the materials for graphic communications. On a lighter note, we had it engraved into our minds that oil and water do not mix readily. (I now know why that was such an important principal to understand in printing.)
In Today's Workforce
What company are you working for now and what types of products and services do they provide to their customers?
I am now working for Arkansas Graphics, located in Little Rock. We are a full-service printing company, who have embraced the pace of change in the industry. We offer sheetfed offset printed materials, digitally printed materials, direct mailing, wide format, and a very innovative digital storefront. More recently we acquired a laser die-cutting machine that has improved our diversity in personalization in a remarkable fashion.
What job did you first have with the company when you started, what position do you have now, and/or what else have you done since joining the company?
I first started as a press-helper at Arkansas Graphics, and briskly worked my way up to the pressman position. I run a Komori Lithrone S40 and I have now been a pressman at Arkansas Graphics about two years. I have really progressed in my ability to handle any job that can be printed on my press, and with efficiency.
What do you think employers are looking for in today's workforce and the current industry environment?
I think employers are looking for individuals who are willing to embrace the rapid pace of change in the industry today. Printing is evolving at an alarming rate, we must try to stay relevant in the digitally dominated world that we live in today. A certain "adapt or die" mentality is essential to the relevancy of the industry. Printing is so much more than just ink on paper now. The number of substrates and the diversity of what a printing company can do in today's market is night and day compared to just 15 years ago. So, someone who is willing to constantly learn new things and has a passion for relevancy is what I believe employers will appreciate.
Is there anything that you have found to be particularly different from what you initially expected, now that you've progressed through your work career for a period of time?
Growing up in the industry, I was exposed to a majority of what it had to offer. I knew the ups and downs of the industry going in to it, but I've always thought that the ups greatly outweighed the downs.
Have you changed your plans or ideas about what area or type of job you might like to have since you first considered the graphic communications field and began studying for a career in it?
The aspirations of my career are still on par with what I hope to achieve. I haven't strayed from my path in the industry, and I work every day to achieve the goals which I had set forth for myself in the beginning.
What do you see yourself doing a few years from now?
Ideally, I would see myself in a management position in my company. For me to be able to utilize all of my knowledge of the industry in a working environment on a daily basis would be the ultimate goal achievement for me.
Was being a recipient of a PGSF scholarship important, or did it have an impact on your future or ability to succeed in the industry?
PGSF laid the foundation for my future. Without PGSF, I wouldn't have been able to afford college in the first place. I am forever grateful for being a recipient of my scholarship. It had a resounding impact on my future. I wouldn't be where I am at today without their help.
< Back