The Print and Graphics Scholarship Foundation is publishing profiles featuring some of their more than 6000 former scholarship recipients. This series gives you an up close and personal insight into the thoughts and motivations of the former students who are a part of our industry today. As our current employees reach retirement and leave, replacing them becomes an increasingly important factor for many companies. Here is one story…
John Bratt
Gannett Publishing Services McLean, WV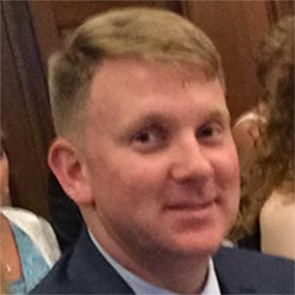 John Bratt attended the West Virginia University Institute of Technology and received a degree in Printing Technology in 2001 followed by Printing Management in 2003.
A Profile
How did you first get interested in the graphic arts, or decide to focus on graphic communications in school?
Initially I was enrolled in the engineering program at WVU Tech, but the printing chairman Jack Nuckols was a great salesman of the department. His passion for the printing industry, as a whole, was contagious. Then I got a little ink in my blood, and I have enjoyed the ride so far in the newspaper industry.
Did you take any courses in high school that were related to graphic communications, or that prepared you for your planned career?
I didn't take any classes in high school related to the graphic arts.
How do you think going through your education process prepared you for the workforce?
The education I received at WVU Tech prepared me for the workforce with a hands on knowledge of the printing process from start to finish. We took products from design to final product, and that knowledge was put to use immediately when I started with USA TODAY. The school also participated in an internship program with Scripps, so I worked two summers at daily newspapers. This allowed me to understand the challenges of newspaper production in the middle of the night with deadlines looming.
In Today's Workforce
What company are you working for now and what types of products and services do they provide to their customers?
Currently I work for Gannett Publishing Services based out of McLean, Virginia. We produce cold web products on newsprint all over the country. Specifically, I have responsibility for USA TODAY, which has 36 printing facilities around the country.
What job did you first have with the company when you started, what position do you have now, and/or what else have you done since joining the company?
I started my career with USA TODAY as a Quality Analyst in 2003, and I have been with USA TODAY/Gannett since. Currently my title is Senior Operations Manager. I have been the temporary General Manager for a facility we have closed in Springfield, VA. Over the years, I have had the opportunity to travel the country launching USA TODAY in 16 different newspapers across the country. Currently I am also involved in project management and data analysis for the operations department.
What do you think employers are looking for in today's workforce and the current industry environment?
Currently I feel like the industry is looking for the trade skills of press operators and technicians that can run/repair aging equipment. Electronics obsolescence is an issue we run into frequently with some of the newer shaft-­‐less presses, so having trained technicians that can repair this equipment becomes key to our success. In my travels, I have met the best in the industry, and it is an aging workforce with knowledge that will be lost if it is not passed down.
Is there anything that you have found to be particularly different from what you initially expected, now that you've progressed through your work career for a period of time?
In the newspaper industry in particular we have seen a steady decrease in circulation and ad revenue since I started my career. The consolidation of print facilities has been something I didn't expect so quickly in my career.
Have you changed your plans or ideas about what area or type of job you might like to have since you first considered the graphic communications field and began studying for a career in it?
Since coming out of college my career goals have definitely changed. I have been lucky enough to work with some of the best in the industry and have been given tremendous opportunities. Currently, I see myself doing as much project management and data analysis as I do putting ink to paper. I always saw myself working my way up in a print facility, and eventually leading to a management position. But seeing as many print facilities as I have gives me a unique perspective from the management/analyst side.
What do you see yourself doing a few years from now?
The future is a funny thing to try to predict, especially in the current climate of the newspaper industry. For now, I will continue to push to make our facilities as efficient asmpossible through data analysis and physically being on the production floors. I love this industry and will continue working to make us as successful as possible.
Was being a recipient of a PGSF scholarship important, or did it have an impact on your future or ability to succeed in the industry?
Being a scholarship recipient allowed me to continue my education at WVU Tech, which ultimately led to my success in this industry. It allowed me the opportunity to finish the four year degree which I feel was extremely important in molding who I am today, both personally and professionally.
< Back