The Print and Graphics Scholarship Foundation is publishing profiles featuring some of their more than 6000 former scholarship recipients. This series gives you an up close and personal insight into the thoughts and motivations of the former students who are a part of our industry today. As our current employees reach retirement and leave, replacing them becomes an increasingly important factor for many companies. Here is one story…
James Bretl
Innerworkings, Inc. Chicago, IL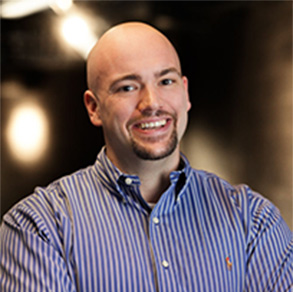 James Bretl attended Ferris State University, and graduated in 2005 with an A.S. Digital Imaging & Print Technology, B.S. Print Management.
A Profile
How did you first get interested in the graphic arts, or decide to focus on graphic communications in school?
I got into trouble during my freshman year of high school when I was disruptive in a structured study hall. Upon being asked not to return to the study hall, the guidance counselor gave me a choice of two classes to fill my time instead. One of the options was Graphic Arts 1, which I took. I had no idea at the time that my high school (York Community High School, Elmhurst, IL) had such an outstanding Graphic Arts program. Nor did I have a clue taking Graphic Arts 1 would change my academic and athletic outcome for College. The teacher, Bill Dick, was an amazing educator. He was very knowledgeable, and was a person that helped tutor and keep his class open for
academic help before and after school. My focus for school, athletics, and the print
industry was established because of taking Graphic Arts 1 in high school.
I met Pat Klarecki, from Ferris State, at the Graph Expo show during my Sophomore year in high school. This made me realize that there was an academic next step for what I had come to love. By my junior year I was being recruited heavily for football. With a little bit of added focus, I completed high school with a full ride athletic scholarship for football at Ferris State, as well as earning several scholarships for Graphic Arts. My future path was paved.
Did you take any courses in high school that were related to graphic communications, or that prepared you for your planned career?
Yes, my high school offered Graphic Arts 1, Graphic Arts 2, and a two-­‐year course called Production Printing. In addition, I worked at a local printer during the summer breaks. Before I was of legal working age, I knew how to shoot negatives, strip master flats, run a two color press, operate a guillotine cutter, folder machines, stretch and burn screens, operate a screen press, and had basic knowledge of paper.
How do you think going through your education process prepared you for the workforce?
It prepared me an immeasurable amount. Technically the education gap was extremely small when I jumped in to college level courses. The biggest learning curve was business related, and understanding what drives companies' business decisions on how they buy print.
In Today's Workforce
What company are you working for now and what types of products and services do they provide to their customers?
I work for Innerworkings Inc., (INWK, Nasdaq) headquartered in Chicago, IL; and have worked here since I graduated from Ferris. Innerworkings is a global services firm that specializes in marketing execution. In short, we have a global supply chain of over 6,000 print manufactures covering all methods of printing. Our organization specializes in the business process outsourcing of company's operational print and marketing spend. The product range covers: catalogs, magazines, direct mail, flyers (general collateral), forms, envelopes, corporate stationery, large format offset, large format signage, displays, packaging…you name it. If it is printed or imaged in some fashion, we are connecting the dots of what is needed and who can best produce those products at the best price.
What job did you first have with the company when you started, what position do you have now, and/or what else have you done since joining the company?
My first position with the company immediately introduced me to the Chinese print market. I oversaw sourcing the production of board games and packaging in China. It was a challenging, fun, and entertaining role. Ultimately it helped bridge the gap to professionally entering the US print market. We secured a contract for a large US board game company that not only was producing in China, but also needed a supply chain built in the United States. Working to complete the US based production model had me working directly with several US based print companies, box convertors, plastic thermoforming, and distribution/warehouse suppliers.
That was then, this is now. The exposure of different types of print manufacturing, different geographies, and with different clients has increased greatly since I moved out of a sourcing role in China and into production and sourcing roles domestically.
Today, I oversee our company's raw material strategy. I manage a team that purchases paper and synthetic substrates from mills, merchants, and convertors across the country. Our company has quickly grown from having our print suppliers handle the purchase of raw material, to having strong relationships with material providers; allowing the ability to control of the cost of raw material and supply raw material to print companies for the bodies of work we support.
What do you think employers are looking for in today's workforce and the current industry environment?
The entrepreneurial spirit. The willingness to go above and beyond in finding solutions to deliver revenue and profitability to your employer. With exception to key manufacturing positions in the print supply chain, individuals are increasingly involved in opportunities that could impact your company saving money or making more money. Helping deliver these solutions not only helps your efforts as an employee get noticed, but helps your efforts get refined as you gain experience. You just get better with age with the spirit of maximizing business.
Is there anything that you have found to be particularly different from what you initially expected, now that you've progressed through your work career for a period of time?
I first believed that I would only work for a printing company. I didn't see it any other way. Not until interviewing after graduation did I understand there is an entirely different side to the world of print, the side of the company buying the services. Nowadays, I don't think I would ever consider working for an actual print manufacturer. The driver's seat of getting what you want in this industry is squarely based on education, knowledge of your suppliers, and experience. Being an experienced and educated print professional allows me to consider most all conceivable mouse traps this industry offers. Decisions are easier, more objective, and not based on the relationship of the print sales rep bringing donuts to your office.
Have you changed your plans or ideas about what area or type of job you might like to have since you first considered the graphic communications field and began studying for a career in it?
Absolutely. The two things that got me very interested in this industry were working on press and film stripping. I gained a ton of experience even before graduating from high school. When completing college, I thought I would end up working in a pressroom and maturing from that perspective. My appreciation for offset presses and the art of printing still exists, but I now know my desired roles in this industry will always be on the front end of the business, and being involved in creating and implementing solutions that work and provide positive financial results.
What do you see yourself doing a few years from now?
This is always a tough question. My 11th year at Innerworkings is nearing an end. There has never been an extended period during my tenure in which change hasn't been involved. There is so much this industry has to offer, and for the time being I am of the belief no company offers the same compliment of challenge and industry exposure as my current employer. I do however have a dream of one day owning my own BBQ restaurant/bar, and spending my days monitoring a smoker and selling delicious food. A few of the country's top BBQ restaurants started with a guy from the print industry…It could happen again!
Was being a recipient of a PGSF scholarship important, or did it have an impact on your future or ability to succeed in the industry?
The scholarship was an exclamation point on my college path. Receiving the scholarship helped make my college career financially independent and provided the first feeling of accomplishment in an industry I knew I loved years earlier.
< Back