The Print and Graphics Scholarship Foundation is publishing profiles featuring some of their more than 6000 former scholarship recipients. This series gives you an up close and personal insight into the thoughts and motivations of the former students who are a part of our industry today. As our current employees reach retirement and leave, replacing them becomes an increasingly important factor for many companies. Here is one story…
Dan Worley
Bag Craft Chicago, IL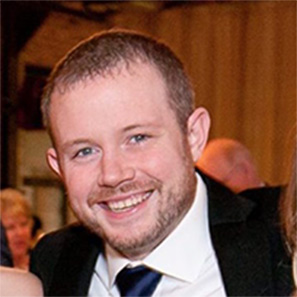 Dan Worley attended Illinois State University and received his Bachelors in Industrial Technology-Graphic Communications in 2011.
A Profile
How did you first get interested in the graphic arts, or decide to focus on graphic communications in school?
I accidentally took Graphic Arts in high school, and found that I really enjoyed design and
screen printing.
Did you take any courses in high school that were related to graphic communications, or that prepared you for your planned career?
Yes, accidentally during my freshman year. I was supposed to be in a woodworking class, but had been assigned the wrong class. As it turns out, I ended up really enjoying the graphic arts class, and took another couple of classes each year after that.
How do you think going through your education process prepared you for the workforce?
Graphic communications is such a broad subject that the classes at ISU were able to give us the resources and tools needed to prepare us for multiple different avenues in the graphic communications work force. We were given so many generic and specialized skills that we could really take our careers in whatever direction we wanted to. I now know people in many different lines of work that had the same major I did.
What company are you working for now and what types of products and services do they provide to their customers?
I am working at Bagcraft, located in Chicago Illinois. Bagcraft is a custom print and packaging manufacturer. We create anything from to-­‐go food containers and basket liners, to java jackets and popcorn bags.
What job did you first have with the company when you started, what position do you have now, and/or what else have you done since joining the company?
After college, I started as a Print Production Specialist at PersonalCreations.com. I basically edited print files and maintained the digital printers. It definitely wasn't my dream job, and that was hard for me to grasp at first. However, in the end, it really taught me a lot; not only about the printing industry, but about the workforce in general. I learned how to conduct myself in a business setting, but was also able to apply what I learned at ISU to every day occurrences.
From there I went to a family owned commercial print company as a Customer Service Representative. The job itself was along the same lines as a project manager, overseeing jobs from start to finish as they came through the production cycle. I felt this was my first "real" job out of college and I did my best to not only improve myself, but the company as well. I was given the freedom and support from my superiors to introduce new ideas to help benefit the company. Some worked and some didn't. But in the end, it all paid off, and after a few years I took on the responsibilities of Purchasing Specialist as well.
Just recently, I began my current position as the Pre-­‐Production Supervisor at Bagcraft, managing a team who is responsible for the day-­‐to-­‐day pre-­‐production cycle of new orders. It is incredibly inspiring to look at where I started out of college, and where I stand today.
What do you think employers are looking for in today's workforce and the current industry environment?
They are looking for people who strive to be better than the position they are applying for. They aren't looking for someone to merely fill a position, but someone who has the passion and drive to be successful and eventually grow within the company down the line.
Is there anything that you have found to be particularly different from what you initially expected, now that you've progressed through your work career for a period of time?
Coming out of college one doesn't really think about the atmosphere or "personality" of their workplace. I know I thought everything would be straight-­‐forward, spelled out and in order. But, I learned that that's not necessarily the case. Every job has different people, with a different atmosphere, and a different objective. You need to find a place where you fit in, not only from a personality perspective, but also somewhere that promotes and encourages the same goals you have for yourself. Your days are much
longer if you don't enjoy what you're doing or who you work with. You spend 40+ hours a week with your co-­‐workers in the work place; make sure it's somewhere you actually want to be.
Have you changed your plans or ideas about what area or type of job you might like to have since you first considered the graphic communications field and began studying for a career in it?
Throughout my college career, teaching was always my second career choice. Sometimes I have second thoughts about not going into teaching, especially after seeing my education friends off from work during the summer. However, the print industry is always changing and evolving with the introduction of new technologies and equipment. It's never boring and gives me the creative freedom to make it my own.
What do you see yourself doing a few years from now?
I really enjoy my new role at Bragcraft. It's giving me the opportunity to increase my management skills, and further my education on the print production process. I'm hoping that in the future, I can use these skills to enter into the marketing or advertising world. Regardless of where the future takes me though, I'll always continue down the path that will not only support my career goals, but will also be in the best interest of my family and I.
Was being a recipient of a PGSF scholarship important, or did it have an impact on your future or ability to succeed in the industry?
I was the first person in my family to not only graduate from college, but to also attend college. My family didn't necessarily have the financial means to cover my education expenses, so I resorted to government loans to pay for my tuition. Now, five years out of college, I'm continuing to pay off those debts month by month. It's quite a burden, but the financial weight the PGSF scholarship has lifted from my shoulders is more than appreciated. I can't imagine not having the support from PGSF.
Anything else that you would like to add?
Yes, we all know that this is the digital age and that the future lies in digital technology. However, print is not dead and can certainly offer many different career paths. Stay true to yourself, work hard, and see the results pay off!